PSY/OPS TYPE FOUNDRY IS A DEDICATED TYPE DESIGN STUDIO IN THE HEART OF SAN FRANCISCO.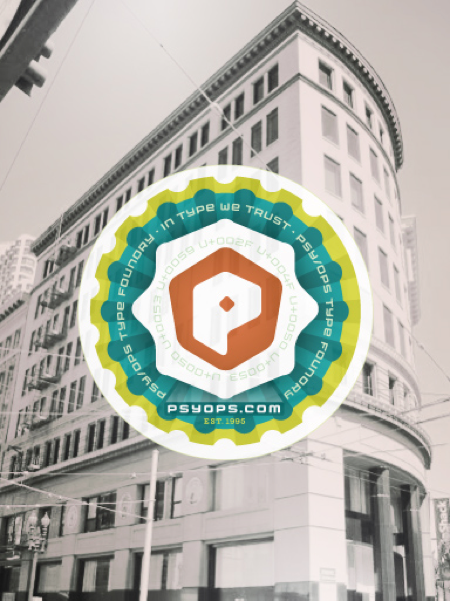 Hi, we're PSY/OPS Type Foundry, and we build typefaces all day long — and occasionally all night long.
Our primary commissions are for tech giants and manufacturers, game developers and print publishers, as well as other type foundries and design firms. We also love teaming up on more personal / experimental / academic projects. The quirkier and more challenging the better. Between client engagements, we work on fonts for our own ecclectic library.
Our design studio, founded in 1995, is a creative sanctuary for type-minded visitors and collaborators. Along with PSY/OPS, our workspace is home to Glyfyx, a creator of letter-based toys and art objects; and to Alphabetic Order, a small type design school. Noticing a theme?
We hope you like what you see on our site, and that you stop in to say hi if you're in the neighborhood. For now, we please join our mailing list and send us your thoughts and questions.
Rod Cavazos is Founder and Principal at PSY/OPS Type Foundry, where he has designed and produced hundreds of typefaces over two decades, including for GM, EA, Amazon, Samsung, Motorola, Panera, Chipotle, GAP, Jack Daniel Distillery, the US Government and dozens of other notables. He is also Chief Creative at Glyfyx Inc, and serves as an Adjunct Professor at California College of the Arts, where he's taught the acclaimed Type Design Studio since 2006. He also leads up Alphabetic Order, PSY/OPS' type design study space.
His work has appeared in numerous books and periodicals, including Just My Type by Simon Garfield and Typography Sketchbooks by Steven Heller. He has spoken at many colleges and design events, including TYPO SF. His passion for type and teaching are boundless, and he can usually be found tinkering with letters in some form, on screen or off.
James Beall holds a BFA in Graphic Design from California College of the Arts and has served as a Chief Technologist and Graphic Designer at PSY/OPS Type Foundry since 2006: crafting, coding and mastering thousands of impeccable fonts. He has yet to run into a technical issue he can't resolve in record time.
He is also a Sr. Designer at Glyfyx, where he is responsible for the beloved Bitblox wooden pixel blocks, and co-teaches the technical sessions at Alphabetic Order.
In his spare time you can find him building with Lego and running the EverydayBricks website.
Chiharu Tanaka is a Type Designer at PSY/OPS Type Foundry, where she has contributed to numerous type commissions for world class clients. She also assists with workshops and Guestships at Alphabetic Order. Chiharu holds an MFA in Graphic Design from Academy of Art University.
Her Masters thesis, which explored the interaction of Japanese motif with Western letterforms, was awarded a top Adobe Design Achievement Award in 2010. Prior to moving to San Francisco she worked as a Graphic Designer at elite agencies in Tokyo.