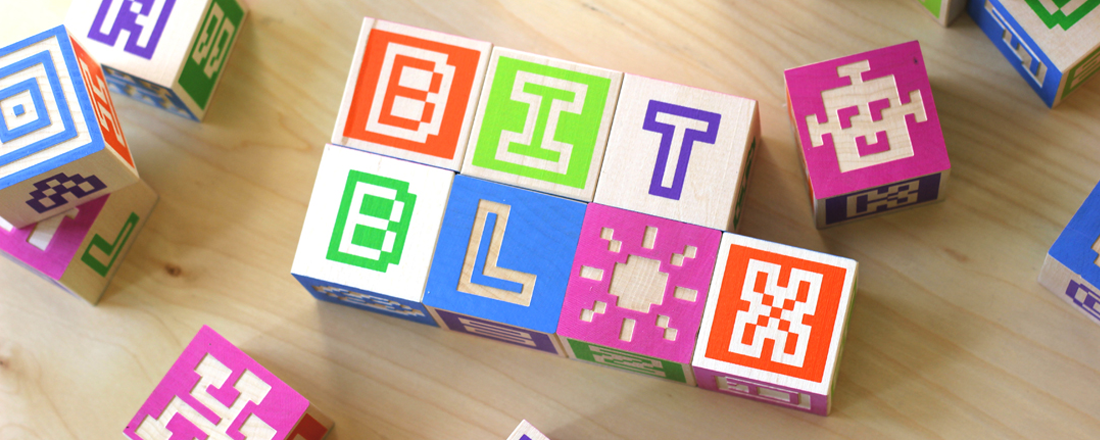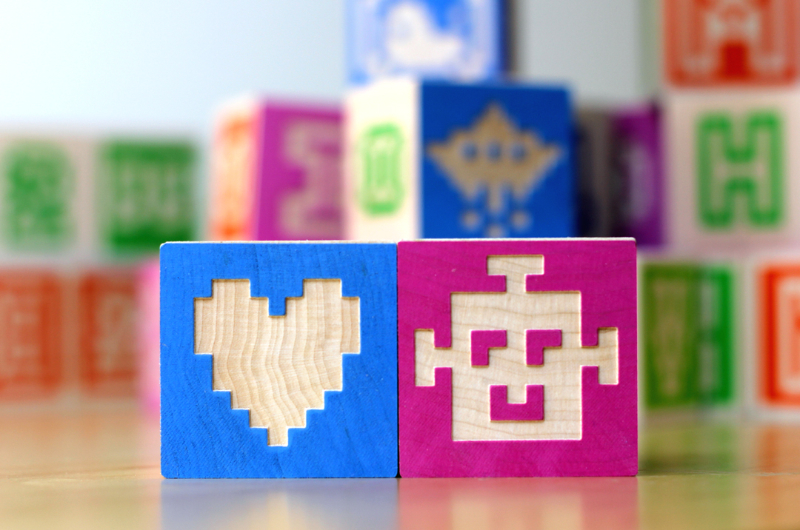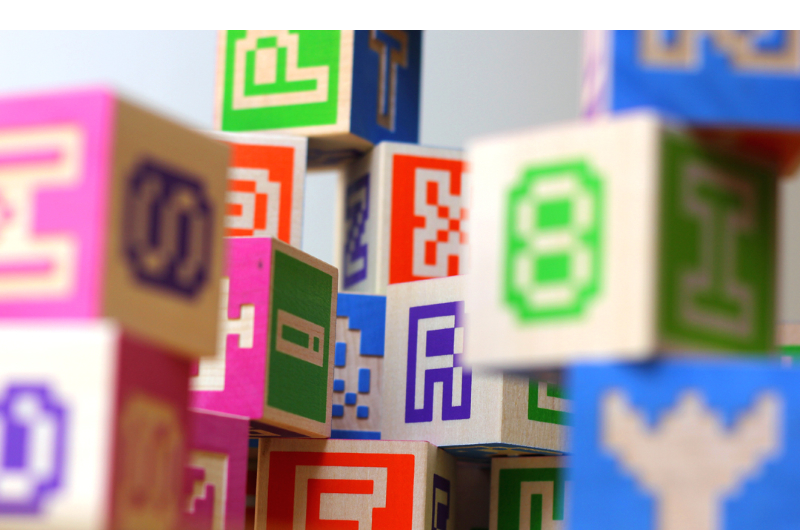 Blocks for the Digital Age
Bitblox are a celebration of pixels — those eensy data dots that have brought meaning and joy to our lives since the sun-dappled days of Pong. While pixels continue shrinking out of sight on our digital screens, they live on in full chromatic and tactile splendor in these one-of-a-kind alphabet blocks.
Each set of Bitblox includes 28 alphabet blocks, featuring a total of 168 letters, numbers, symbols and quirky pictograms.
Bitblox are a limited-edition item, available exclusively from PSY/OPS & Glyfyx. A numbered and signed Certificate of Authenticity accompanies each set.
Bitblox alphabet blocks are intended for decorative use. They're hand-manufactured in the United States from renewable, American grown, kiln-dried basswood. Printed with non-toxic, child-safe inks. (Each batch of ink is independently tested for lead before use.)

Design
Bitblox alphabet blocks are inspired by the low-res fonts and 8-bit images found on the computer screens of yore. Each image is colorfully rendered on a 13×13 grid, because — superstitions aside — 13 is awesome! …What other prime integer hits that sweet spot just between 12 and 14, huh?
Alphabet
Bitblox include every letter (and numeral) at least twice. There are extras of the most common letters. And certain ones do double duty thanks to the magic of rotational symmetry. The combination of characters in each set makes it easy to spell out familiar names and words.
Symbols
Bitblox also contain a mix of functional, abstract, wacky and nostalgic symbols. A floppy Disk, UFO, Paragraph and Skull? Yup, they're included, alongside Bubbles, a Fishbone and an Eye. All forever engrained (embossed, actually) onto little wooden blocks you can pick up and enjoy.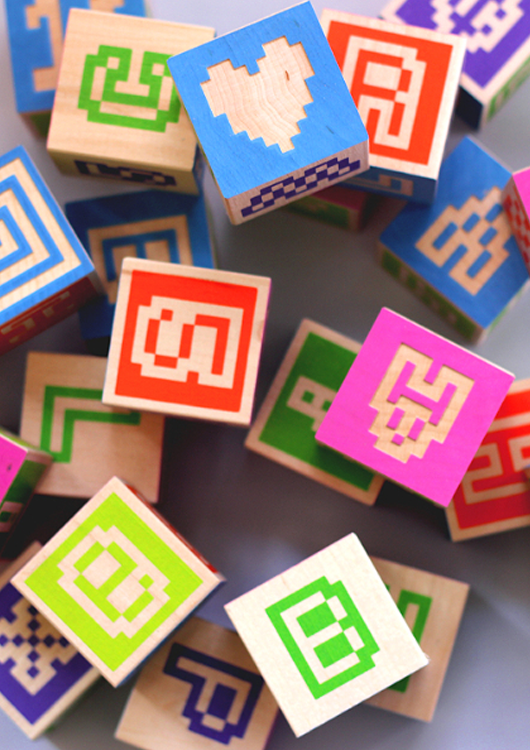 Bonus Bitblox Fonts
Each Bitblox alphabet blocks set includes a free digital typeface you can install and use on your computer. The fonts can also be purchased separately. Here's a peek at the eight styles that are available. Jump over to the Bitblox Fonts page for more details.

Block Specifications
Each set consists of 28 blocks; for 168 images total.

Made from high quality, renewable, American grown, kiln-dried basswood.

Hand-manufactured in the United States.

Printed in six vibrant colors: blue, pink, orange, chartreuse, purple and green.

Printed using non-toxic, child-safe inks.

Block dimensions: 1¾ x 1¾ x 1¾ inches.

56 embossed faces (suitable for paper rubbings).

Slight variations in color and texture may be present in the wood, making each set truly unique.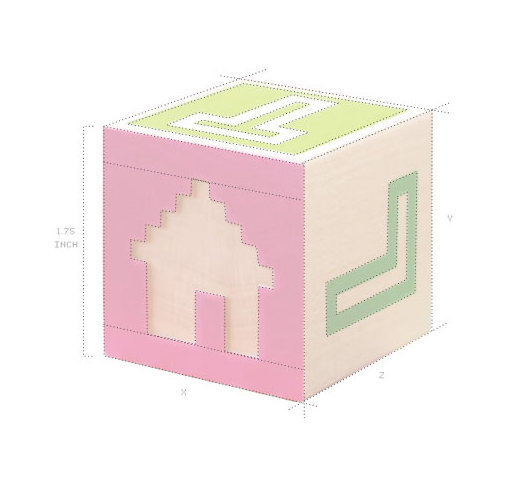 Decoration or play, it's pixel art within the reach of all ages and we love it!" — Dad Is Geek
As seen on Boing Boing!
Toddlers can start getting tech ready with these limited edition BitBlox alphabet blocks that make pixels cool again." — CoolMomTech
Toy building blocks are a staple for playtime and the Bitblox set featuring pixelated characters give the classic blocks a tech-savvy boost. The wooden blocks feature the alphabet in low-res, 8-bit format in a vibrant array of contemporary colors that visually stimulate children as they play."
—
Michael Hemsworth, TrendHunter
As seen on Quipsologies.
…Glyfyx, a creative salon based in San Francisco with a love for the alphabet. They've turned this luurve into a whole line of games and products… I love it when people follow their passions and turn them into something BIGGER. Live all in, friends. You never know where your passion will take you.

—

Erin, ArtSocial
"ABC blocks are a must for any toy box and these awesome locks are sure to get the attention of any little one." —

Lofty Littles
Teach your kiddos the value of a pixel right from the start with a set of Bitblox." — Outblush
As seen on Laughing Squid!
BitBlox Alphabet Blocks feature all the standard letters you're likely already familiar with, but your young one isn't. There are numbers peppered in the set, as well as some cute and nerdy, pixelated pictures on the blocks which celebrate learning, growing up, and discovery, with an added nerdy touch. Your kids will liken hearts to love and understanding, while we'll associate it with having to collect more to survive. Your kids will learn about a power button, while we push the block down, hoping for a hard reset. See, learning can be fun." — Nerdy With Children
The Interwebs are definitely having a love affair with pixels as of late. Now kids and their toys can get in on the fun. — KidCrave