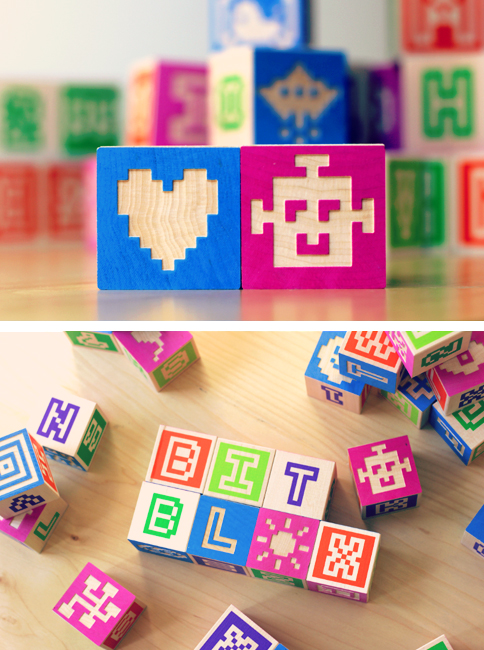 Decoration or play, it's pixel art within the reach of all ages and we love it!" — Dad Is Geek
As seen on BoingBoing, Laughing Squid and Quipsologies.
Teach your kiddos the value of a pixel right from the start with a set of Bitblox." — Outblush
ALPHABET BLOCKS FOR THE DIGITAL AGE
Bitblox alphabet blocks are a celebration of pixels — those eensy data dots that have brought meaning and joy to our lives since the sun-dappled days of Pong. While pixels continue shrinking out of sight on our screens, they live on in full chromatic and tactile splendor in these one-of-a-kind alphabet blocks.
Each set of Bitblox includes 28 alphabet blocks, featuring a total of 168 letters, numbers, symbols and quirky pictograms.
Bitblox are a limited-edition item, available exclusively from Glyfyx and PSY/OPS. A numbered and signed Certificate of Authenticity accompanies each set.
Bitblox alphabet blocks are intended for decorative use. They're hand-manufactured in the United States from renewable, American grown, kiln-dried basswood. Printed with non-toxic, child-safe inks. (Each batch of ink is independently tested for lead before use.) Bitblox are in stock and shipping today!
Each Bitblox alphabet blocks set includes a free digital typeface you can install and use on your computer. The fonts can also be purchased separately. Here's a peek at the eight styles that are available. Jump over to the Bitblox Fonts page for more details.